We are certainly expecting to see some incredibly fantastic pregnancy outfits now that Rihanna and A$AP Rocky have announced that they are pregnant with their first child – and judging by the look the couple delivered to make the announcement, we are in for a genuine treat. Rihanna and A$AP Rocky announced their pregnancy with a snowy photoshoot in Harlem, in which the singer wore a low-waisted, baggy, ripped jeans and an oversized pink Chanel quilted coat left open to display her stomach – which she covered with massive, vintage-style jewelry including a gem-encrusted cross. It all makes sense now: this is why Rihanna has recently favored loose hoodies and large statement coats. Now I'll give you a summary of some of my favourite Rihanna looks (which is honestly just the ones with her belly showing) )that she's been giving in no particular order
. Rihanna stunned in a vintage Chanel quilted coat and beautiful jewelry for her spectacular pregnancy announcement on January 31. The puffer, designed by Karl Lagerfeld in 1996, is no longer available, although it can be found on the resale site 1stDibs for $10,672. She wore a LACROIX brooch around her neck. On DSF Antique Jewelry's website, the gold cross with big gemstones has a selling value of $5,500.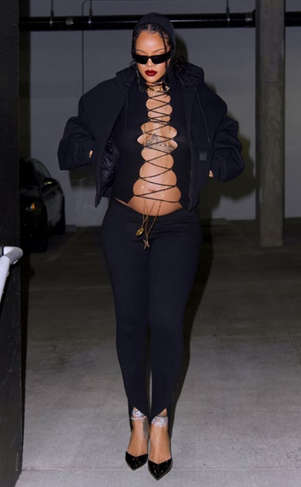 The Barbadian artist wore an all-black ensemble that included a WARDROBE. NYC x Carhartt cropped bomber jacket worn over a handmade Jacquie Aiche 14K gold bra (Rihanna's version costs $36k!) and The Attico stirrup leggings. On foot, a pregnant Rih strutted in Jimmy Choo Saeda shoes with an embroidered ankle strap (iconic).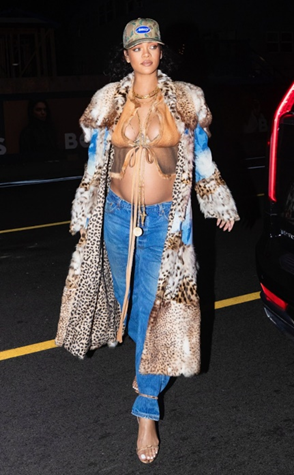 Rihanna has already revolutionised bump style in just a few weeks after revealing her pregnancy. This is one of her most notable looks to date, and it's a Y2K throwback if we ever saw one. Rihanna donned low-slung Vetements trousers, strappy Tom Ford sandals, a Jacqui Aiche diamond bra (which costs a casual £26,000), a Fendi crop top and a patchwork coat – and capped the ensemble with a vintage Noughties camo cap – to supper at a restaurant in Santa Monica.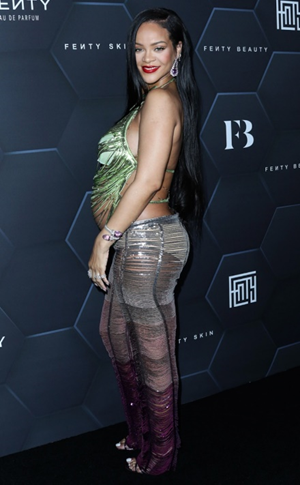 Rihanna's pregnancy style is still on point, and her recent look for a Fenty Beauty event was one of her best to yet. The singer adorned her baby belly with a gorgeous, glittering The Attico gown comprised of green and purple sequin strands.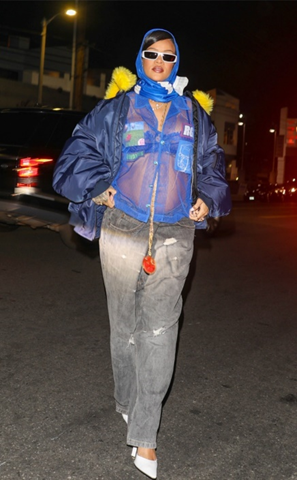 After the Rams won the Super Bowl, the "Diamonds" singer wore a blue see-through blouse, head scarf, bomber jacket, and denim ensemble. Rihanna wore a navy blue bomber jacket with yellow faux-fur trim by Balenciaga to cheer on the Los Angeles Rams in the 2022 Super Bowl. In addition, she donned a brilliant blue headscarf, a sheer blue button-up, baggy gray pants, and white stiletto pumps. And, in the spirit of "more is more," she accessorized with a pair of white-framed sunglasses, Briony Raymond rings and zodiac medallions, and gold body chains.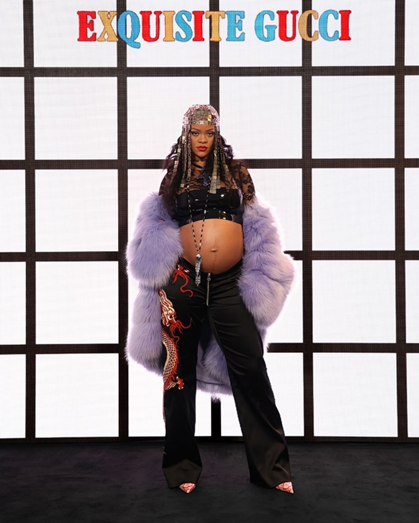 Rihanna attended Gucci's AW22 show in Milan as part of Milan Fashion Week. The fashion and beauty mogul wore a spectacular metallic headgear with a black latex crop top, lavender fuzzy coat, and black slacks with a red dragon painted on them. It should not work on anyone else. But it's another another amazing pregnancy ensemble on Rihanna.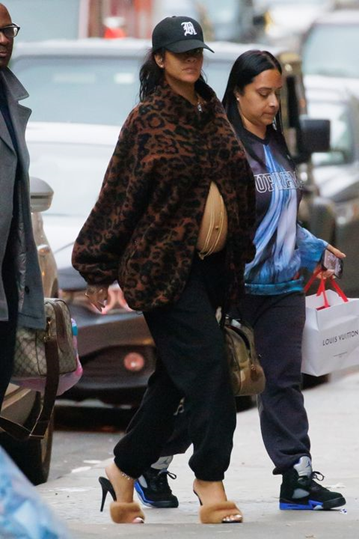 Rihanna was dressed in a fuzzy dark brown-and-black leopard-print coat that was unzipped at the bottom to reveal her baby bump, which was ornamented with a gold chain. She completed the look with a black R13 baseball cap and Saint Laurent mink-trimmed leather mules.BACKGRID Rihanna attends the Gucci afterparty in Milan in February 2022. Rihanna's pregnancy look during the Gucci afterparty at Milan Fashion Week in February 2022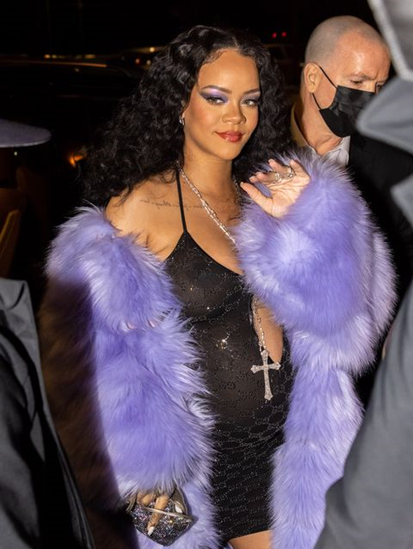 Rihanna was spotted leaving the Gucci after party during Milan Fashion Week wearing a vintage, sheer, glittery monogrammed Gucci dress that displayed her expanding baby tummy, and accessorizing with a beaded bag, diamond cross necklace, stiletto heels, and a purple fuzzy coat. Epic.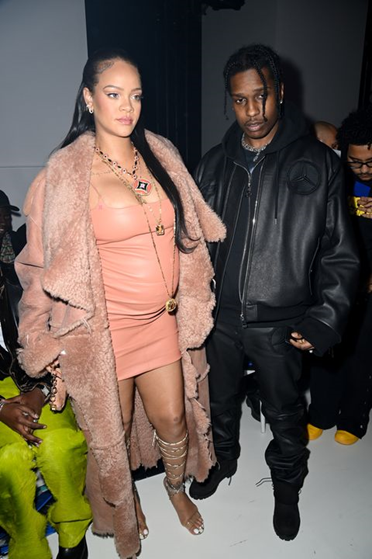 Rihanna and ASAP Rocky attend the Off-White AW22 Fashion Show during Paris Fashion Week in February 2022 Rihanna has smashed it in the pregnancy style rankings yet again, this time in a peach-colored leather strapless dress, a matching shearling coat, strappy heels, and magnificent jewelry including diamond Maria Tash earrings. The singer rocked the ensemble to the Off-White AW22 show in Paris during Fashion Week, with ASAP Rocky (who wore all-black).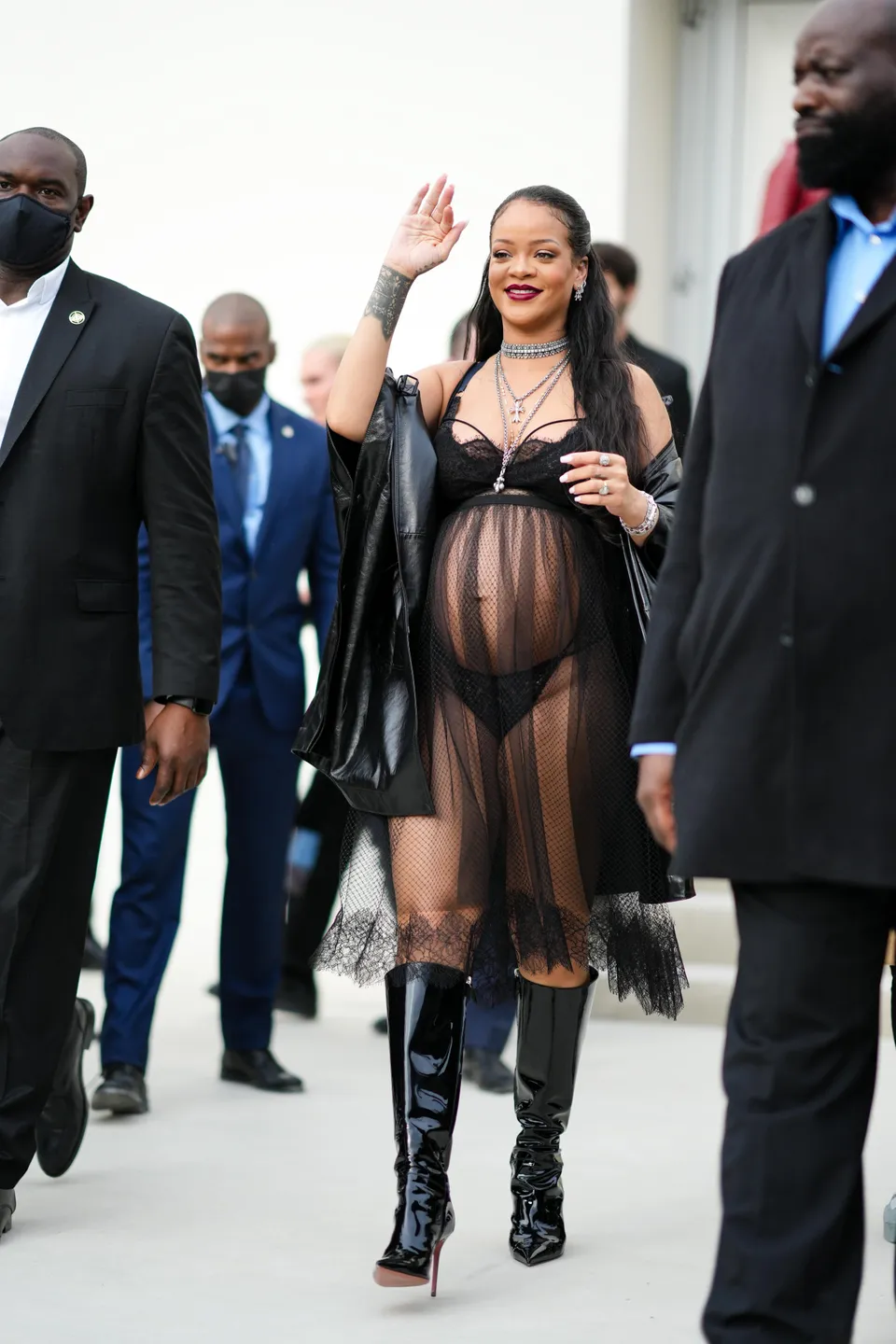 The star arrived late in a sheer lace gown over a matching lace lingerie set. She accessorized with patent leather boots, a leather trench coat, and a plethora of silver chains.