Barbiecore is one of the season's most significant fashion trend, is getting hotter as the season progresses.
Barbiecore is everything that the "coastal grandma" trend isn't: instead of swaying in the wind in linen slacks and bucket hats, participants are coming out in dazzling hot pink hues. The vivid color is frequently linked to Barbie, the legendary doll designed by Ruth Handler, a co-founder of the Mattel toy corporation.
The last year has seen dazzling, all-pink outfits virtually everywhere, including on the runway, the red carpet, and social media. Here's why Barbiecore is taking over the summertime wardrobe.
Barbiecore fashion was popularized by photos of Margot Robbie and Ryan Gosling on the "Barbie" set.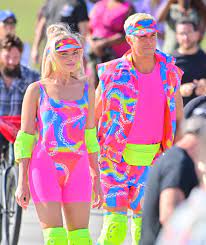 Late in June, when still photos of Ryan Gosling and Margot Robbie dressed as Barbie and Ken went viral, fans posted their enthusiasm for the movie on social media.
One Twitter user claimed, "Watching what Ryan Gosling and Margot Robbie wear on the set of Barbie is more interesting than the Met Gala."
According to People, Margot Robbie celebrated her 32nd birthday on the set with a pink Barbie cake. According to IMDb, the movie, which also stars Will Ferrell, Michael Cera, Kate McKinnon, and Simu Liu, will be released in the summer of 2023.
This spring, the Valentino runway was covered in vibrant pink.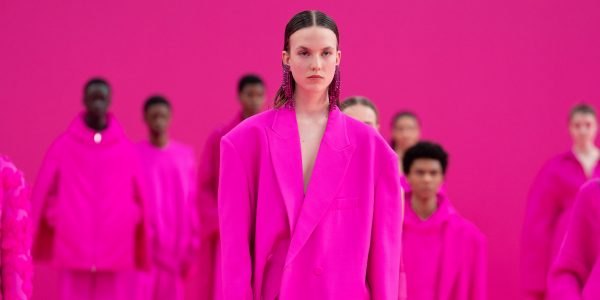 According to Vogue, the color, also known as "Pink PP," was created by the Italian fashion business in partnership with Pantone especially for the fall/winter 2022–23 collection.
The nearly all-pink collection is described as "a manifestation of the psyche and a liberation from the necessity for realism" on the Valentino website.
When Zendaya donned an all-pink costume to the show's front row, she attracted attention and was compared to Barbie.
On stage and on the red carpet, celebrities have been embracing the color.
Celebrities jumped on the trend right once, wearing monotone pink attire to performances, award ceremonies, and the red carpet. Harry Styles wore a pricey feathered coat and shiny pink leggings for his April Coachella performance.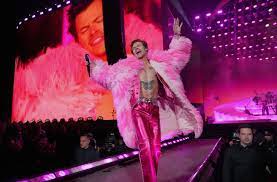 Both Nicola Coughlan and Simone Ashley, stars of "Bridgerton," wore vivid pink outfits to British award ceremonies in the spring.
On July 8, Anne Hathaway and Florence Pugh returned to the front row for the Valentino haute couture presentation in Rome, Italy in eye-catching pink outfits. At the Met Gala in May, bold pink was worn by Nicola Peltz-Beckham, Jenna Ortega, SZA, Sebastian Stan, Glenn Close, and other celebrities.
In 2022, other celebrities including Lizzo, Billy Porter, and Ariana DeBose wore hot-hued pinks to important occasions.
The popularity of Barbiecore on social media is rising.
Google Trends reports that interest in "Barbiecore" peaked in the middle of June and grew steadily through July. On TikTok, #barbiecore has received more than 9.4 million views so far.
The fashion trend is expanding on online buying sites as well. The Barbiecore tag is being used by retailers on Depop to promote 90s and Y2K fashion in a variety of pink hues.
Barbiecore is a much-welcomed mood-booster after the last several years, according to Etsy trend specialist Dayna Isom Johnson in a statement to GMA. She went on to say that embracing bold colors in daily life is the summer's "it" trend.