I got talking to Professor Fifo, "As in the Prof is back!" a fast rising YouTube Star based in Canada. His content is fast becoming an audience favourite due to his creativity and his ever supportive friends who are most times seen in his videos.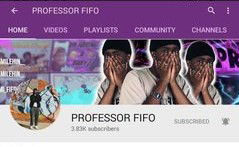 What is your full name
TIMILEHIN FIFO

What school do you attend?
CARLETON UNIVERSITY, Ottawa, Ontario.

How it feels to be a male in a predominantly different female sector?
THIS IS A VERY COMPLICATED QUESTION, WELL IM NOT GOIN TO SAY ITS EASY, BECAUSE THAT'S A LIE. I WOULD RATHER SAY IT'S MORE TASKING AND IT REQUIRES A LOT MORE EFFORT FOR A MALE TO BE RECOGNIZED IN THIS SECTOR OF WORK, IN ORDER FOR SOMEONE TO STAND OUT I BELIEVE THAT HIM/HER WILL HAVE TO BRING SOMETHING NEW TO THE TABLE IN ORDER TO SHIFT THE GENERAL ATTENTION TO THEMSELVES BE IT EDITING, CONTENT OR IDEAS.

What is the best comment you've ever received?
I DID A VIDEO ON "INSECURITES THAT GIRLS HAVE THAT GUYS LOVE", THIS WAS DONE IN ORDER TO HELP THAT GIRL OR THAT GUY OUT THERE THAT FEELS HE/SHE HAS TO CHANGE SOMEHTHING ABOUT THEMSELVES I ORDER TO FIT INTO ANOTHER PERSONS CRITERIA. IT WAS RECEIVED WELL AND IM HAPPY THAT PEOPLE IN THE COMMENTS SECTION COULD SHARE THEIR STORES THAT THIS VIDEO INCREASED THEIR CONFIDENCE.

What one event inspired you to do this?
TO BE HONEST I JUST WANTED TO SEE MYSELF AND MY GUYS ON TV. I KNOW THAT'S NOT A REALLY INTERESTING FACT BUT THAT'S WHY I STARTED MAKING YOUTUBE VIDEOS, TO DOCUMENT ALL THE CRAZY, FUNNY, AND STUPID STUFF WE DO.

When you first started out were you embarrassed to tell people what you did?
YES, IT TOOK A WHILE AND IM STILL CURRENTLY WORKING ON IT BEFORE I GET FULLY COMFORTABLE IN MY OWN SKIN. I LOVE MAKING VIDEOS BUT TELLING PEOPLE A HARD GUY LIKE ME BE MAKING SKITS AND SEGMENTS FOR YOUTUBE WASN'T REALLY THE EASIEST THING TO DO

Who is your favorite youtuber and why?
I WATCH A LOT OF YOUTUBERS FROM DIFFERENT PARTS OF THE WORLD AND THE TWO MOST ICONIC FOR ME THAT HAVE IMPACTED ME ARE 'DDG' AND 'NELLA ROSE' WHY? BECAUSE THEY REMIND ME THAT WITH YOUR ASIPIRATION, DEDICATION, AND HARDWORK YOU CAN BECOME SELF MADE. P.S THEY ALSO HAVE AMAZING CONTENT NOT GONNA LIE.

Do you consider you yourself famous or semi famous?
WELL, I DON'T SEE MYSELF AS FAMOUS OR EVEN SEMI FAMOUS, I ALWAYS STAY HUMBLE KEEP IT AT THE BACK OF MY MIND THAT HUMILITY IS KEY ALTHOUGH I WISH TO MAKE A NAME FOR MYSELF ONE DAY BUT RIGHT NOW IM STILL WORKING MY WAY AROUND THE INDUSTRY

What made you choose the type of entertainment that you do?
AS PLAIN AS IT SOUNDS IM JUST TRYING TO HAVE FUN, LIVE MY LIFE WITH TO THE FULLEST WITH NO DRAMA OR STRESS AND THAT'S WHAT I TRY TO INCORPORATE INTO THE CHANNEL. I WANT IT TO BE AN ESCAPE FROM ALL YOUR PROBLEMS SOMETHING LIKE KEVIN HART COMEDY LAUGH AT MY PAIN HAHAHA…

How do you come up with your skits or segments?
IF I SAID I COME UP WITH MY IDEAS ON MY OWN IT WOULD BE A LIE, MY FRIENDS ARE MY INSPIRATION. THEY HELP ME IN MORE WAYS THAN ONE, THEY GIVE ME IDEAS, HELP ME REMAIN HUMBLE, STAY ON TRACK AND KEEP ME DISCIPLINED TO TRY PRODUCE VIDEOS AS FREQUENTLY AS POSSIPLE. I HAVE A FRIEND NAMED 'PAMELA' WHO IS ALWAYS DRILLING "YOU ARE NOT NELLA ROSE" INTO MY SKULL WHENEVER I DECIDE TO BE LAZY AND ANOTHER ONE OF MY GUYS 'MIRACLE' WHO STAYS UP LATE WITH ME AS WE BRAINSTORM NEW CHANNEL IDEAS.
Is there anyone you would like to partner with on a special episode?
HONESTLY OPEN TO WORKING WITH ANYONE DOESN'T MATTER THE SUBSCRIBER COUNT OR HOW MUCH FOLLOWERS THE PERSON HAS AS FAR AS THE IDEA IS SOLID, WE CAN RUN IT. RIGHT NOW IT WOUDLD BE NICE TO GET CARAMEL PLUG, JUSTIN UG OR EVEN MOSESLDN IN A VIDEO THAT WILL BE NICE.
So why haven't you watched his videos, what are you waiting for? Make sure you subscribe as well, if not he'll find you, trust me, He will.