The 70th Miss Universe pageant took place on December 12th, 2021, in the Universe Dome in Eilat, Israel. After the competition, Andrea Meza of Mexico crowned Harnaaz Sandhu of India as her successor. This marks India's first triumph in 21 years and the country's third overall in the pageant's history.
After being missing for the previous season, Steve Harvey returned as host and Fox as the official broadcaster of the tournament.
The tournament chose contestants from 80 nations and territories to compete. Fifty-three were national pageant winners, while twenty-seven were appointed to their seats after finishing second in their national pageant or chosen through a casting procedure.At the end of the competition, the top 10 finalists were;
Miss Universe 2021- India – Harnaaz Sandhu

1st Runner-Up- Paraguay – Nadia Ferreira

2nd Runner-Up - South Africa – Lalela Mswane

Colombia – Valeria Ayos

The Philippines – Beatrice Gomez

Aruba – Thessaly Zimmerman

France – Clémence Botino

Puerto Rico – Michelle Colón

The Bahamas – Chantel O'Brian

United States – Elle Smith
At the 70th Miss Universe pageant, Nigeria became the first African country to receive "Best in National Costume."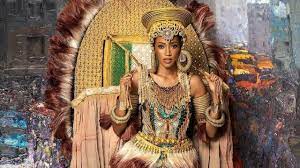 It was undoubtedly a night of firsts, as Harnaaz Sandhu became the first Indian woman to win Miss Universe in more than two decades.
Nigeria's entrant at the contest, Maristela Okpala, wore a unique African heritage attire that has gotten a lot of attention.\Ms. Okpala paraded the runway in a costume she said was inspired by Mmanwa, a female masquerade from Nigeria's southeastern region.
Mmanwa is a female masquerade costume worn for ceremonial and celebratory purposes. It highlights Nigeria's rich cultural history while highlighting a Nigerian woman's power.
Her outfit included a three-foot tribal mask and a colorful antique back cloak with Mmanwa's face prominently emblazoned on it. Kennedy Jhon Gasper, a Filipino designer, created the tribal mask costume.
The reason behind her costume, she wrote on Instagram, "Mmanwa is a female masquerade costume that's designed for ceremonial and festive purposes to celebrate the rich Nigerian cultural heritage paying closer attention to the strength women possess."
The 3ft tribal mask matches the colorful antique back cape, both of which have Mmanwa's Face proudly crested.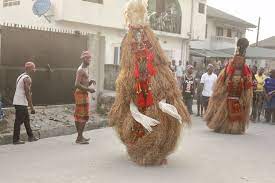 "It represents the beautiful Mmanwa who fought tirelessly to stop girl child mutilation and child slavery while the colorful patterns and embellishments portray the African dashiki which offers a visual appeal and forms meant to invoke the ancestral spirits."
Maristela Okpala came in second place behind Oluchi Madubuike. The latter will represent Nigeria at the 2021 Miss World pageant held at the José Miguel Agrelot Coliseum in San Juan, Puerto Rico, on Thursday, December 16th, 2021.