This year I turned to podcasting as a way to to relieve anxiety and make me more open to people's views and communicating, you know, without communicating.
I was on twitter and I saw a tweet from playboisina for a podcast, so I was like why not, I loved Sina on babygirltos' channel so I checked it out. After I finished listening to the episode, I fell in love with the podcast page. She talked about everything and anything with the most unique sets of views and honesty I have ever heard. She brings in her friends and they all share their honest and funny views on things which honestly makes me happy.
So I just had to find her and interview her. So, here are a couple of questions I asked Oyinda of TRL Talks.
Who is Oyinda, The Retro Liaison?
That's a loaded ass question lol. She's a lot of things honestly. Conversationalist, thinker, content creator, publicist, lover, fighter, all that. And more.
Where did you get the name The Retro Liaison from?
This is funny because I just recently shed that name because I felt I'd outgrown it. When I first started making content I was very into retro 80's/90's fashion and aesthetics so that was my blog name.
You mentioned on an episode you dabbled into YouTube. What inspired you to settle in podcasting?
I more than dabbled honestly lool, i had over 60 videos up (they're all private now haha). My channel was a beauty channel, partly because I was heavy into makeup at the time but also, that was just kinda what girls my age did on youtube you know. Overtime, I lost interest in the beauty space and in being in front of a camera in general so it just didn't feel like me anymore. I hope I can go back into it at some point, with a different vision. We'll see.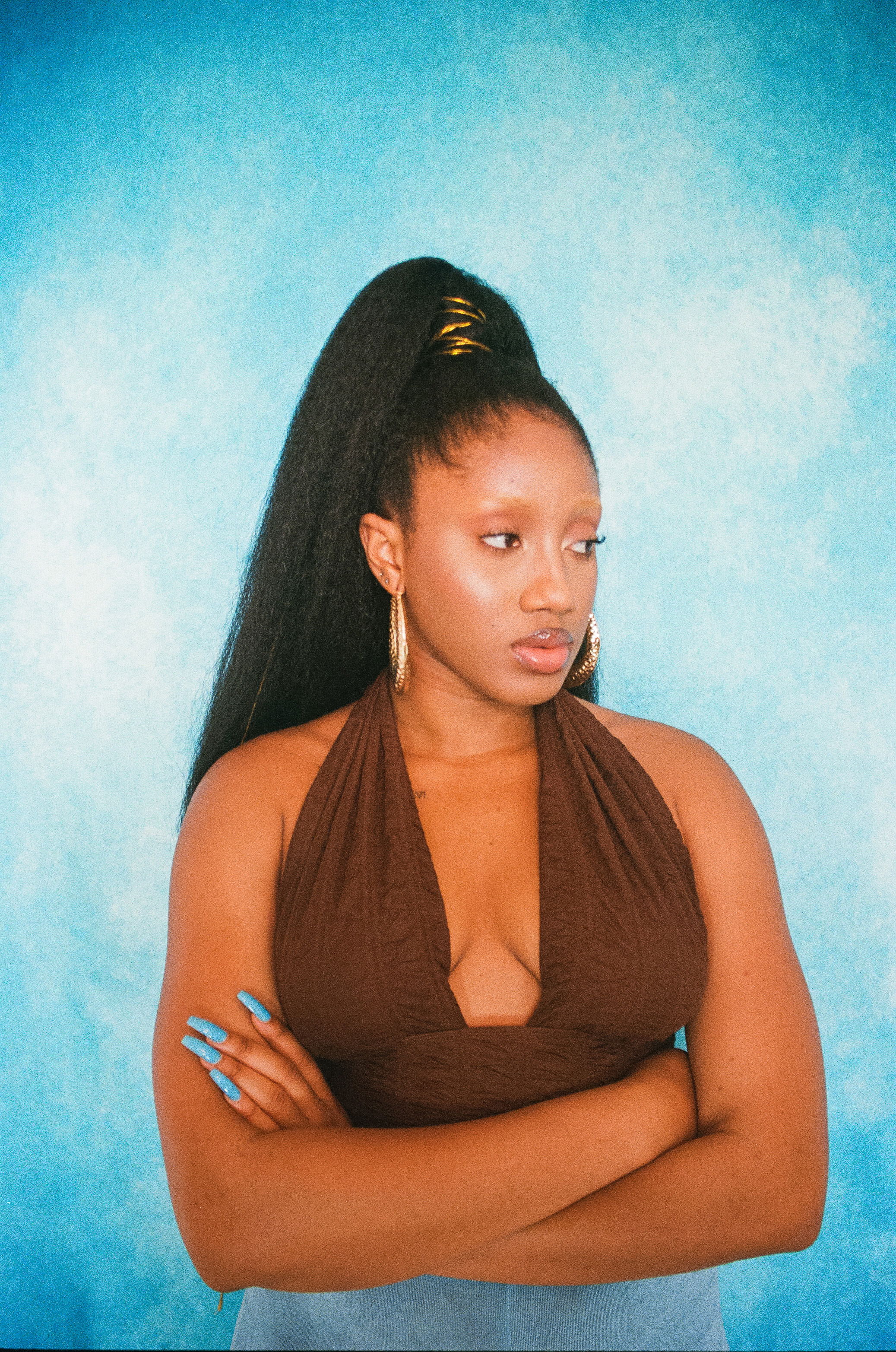 How do you find the podcast industry so far (is it inclusive and welcoming and do you talk to any other podcast hosts)?
Tbh, I'm very much in my own bubble and don't really think of myself as part of a larger "industry", at least not right now. I'm still in the foundational era of my craft and so I'm just focussing on my own shit. I do co-host The Irregular Show. I'm a lot more problematic on there lmao
What do you think of the rise of podcasts in recent times compared to when you started podcasting?
I hear a lot of people say "there are already too many podcasts", and I'm always like, what does that mean?? We've never said there were too many tv shows. It's a medium. And with any creative medium, yes it can get saturated, but i strongly believe there's infinite space in our digital hemisphere for everyone to explore it. If it means more effort to distinguish yourself, then do that.
Did you feel discouraged when you first started? (In terms of lack of views and reshares)
Yes and no. It changed a lot. Still does. On one hand, content creation as it stands IS a numbers game. If you want to grow you need the views, the likes, the comments. It means something, anyone that says it doesn't is lying. BUT I remind myself of MY value and the work and passion I put into my content, and I try to reassure myself that it means something and going "viral" may not be my personal path. And 4 seasons in, I'm at peace with that.
Do you see podcasting as a job or more of an outlet for your inner thoughts and feelings?
Based simply on the fact that it doesn't pay my bills, I can't see it as a job. That said, it does take the time and energy a job would take, especially because I do EVERYTHING myself. At some point, I'd love for it (alongside other content I create) to fill that role but I have a whole other career behind the scenes right now.
Do you plan to make podcasting a long-time thing which might make it a stream of income for you?
Since I was 16 years old, I've always made content. I've written blogs, I've done Youtube, I'm doing this right now. I'll always create content. Will it always be the podcast? I don't know. I try to let my instincts guide me. Once I'm done being a full time student, I'll have more time and resources to put into podcasting and everything else, and we'll see from there.
How do you keep going on when you are no longer motivated to record episodes?
Can't lie, it's not easy. Between everything I have going on in my life, I'm constantly on go. It gets tiring. But my sister and my core listeners are crazy encouraging. And I find that I need the creative outlet to balance me out. If I'm overwhelmed, I don't hesitate to take a hiatus. Burnout is real.
Do you have any podcasts you listen to that gives you motivation to continue or record episodes?
I have to admit, I haven't had as much time to take in my shows like I used to but I listen to I said what i said, because duh. The Fourth space hosted by ade is amazing. Whoreible decisions, Two Twos pod, On Another Note. Those are some of my regulars.
You have a habit of bringing on your friends to talk with you on your podcasts, do you plan to bring in more influential people as well or you plan to keep it close to home?
That was for two reasons. One, I'm extremely inspired by my friends and support network. Their voices are so important to me so those are the perspectives I wanted on TRL Talks. The second reason was imposter syndrome and anxiety. Networking and getting guests is nerve racking and I'm really introverted. But season 4 is different and I'm exploring music, art, fashion and culture so there's definitely a different lineup of guests this time. Stay tuned!
Three seasons done and currently in the fourth season, how do you feel about your podcast so far?
I feel good about it, honestly. It's only been about 2 years and I have a long way to go and a lot of places I'd like to take my content. But I'm proud of it, I've put a lot of my authentic self into it and I value that.
What are your plans for the podcast in the nearest five years?
My 5 year goals span wayyyyy beyond TRL Talks. But like I said before, I'm guided by instincts and vibes. I definitely would love to take a more behind the scenes role in the next phases but I won't get too deep into that haha
If you could turn back the time and talk to your 18-year-old self, what would you tell her?
You're actually in control, you know. Your life is not predetermined and you don't need to go wherever the wind blows. You know who you are and there's no need to water that down to fit a mold. Fuck the mold.
What's the most important thing you've learned in your life as a podcast host?
The importance of reflection. I think a lot but I don't talk a lot. Having to churn out hour-long episodes of me talking about my own experiences and perspective forced me to verbalize certain things and talk through them with other people. It pushed me to grow. I'm not sure my listeners even realised that. But it really did
Sign out as The Podcast Maami, what advice would you give people who want to go into podcasting?
Just do it. Don't over analyze or over prepare. Do enough to get started and prioritize learning as you go. Be candid. Seek inspiration but don't emulate or compare your voice to others. You're you so just be that.
Check out her podcast on Apple Podcasts and Spotify.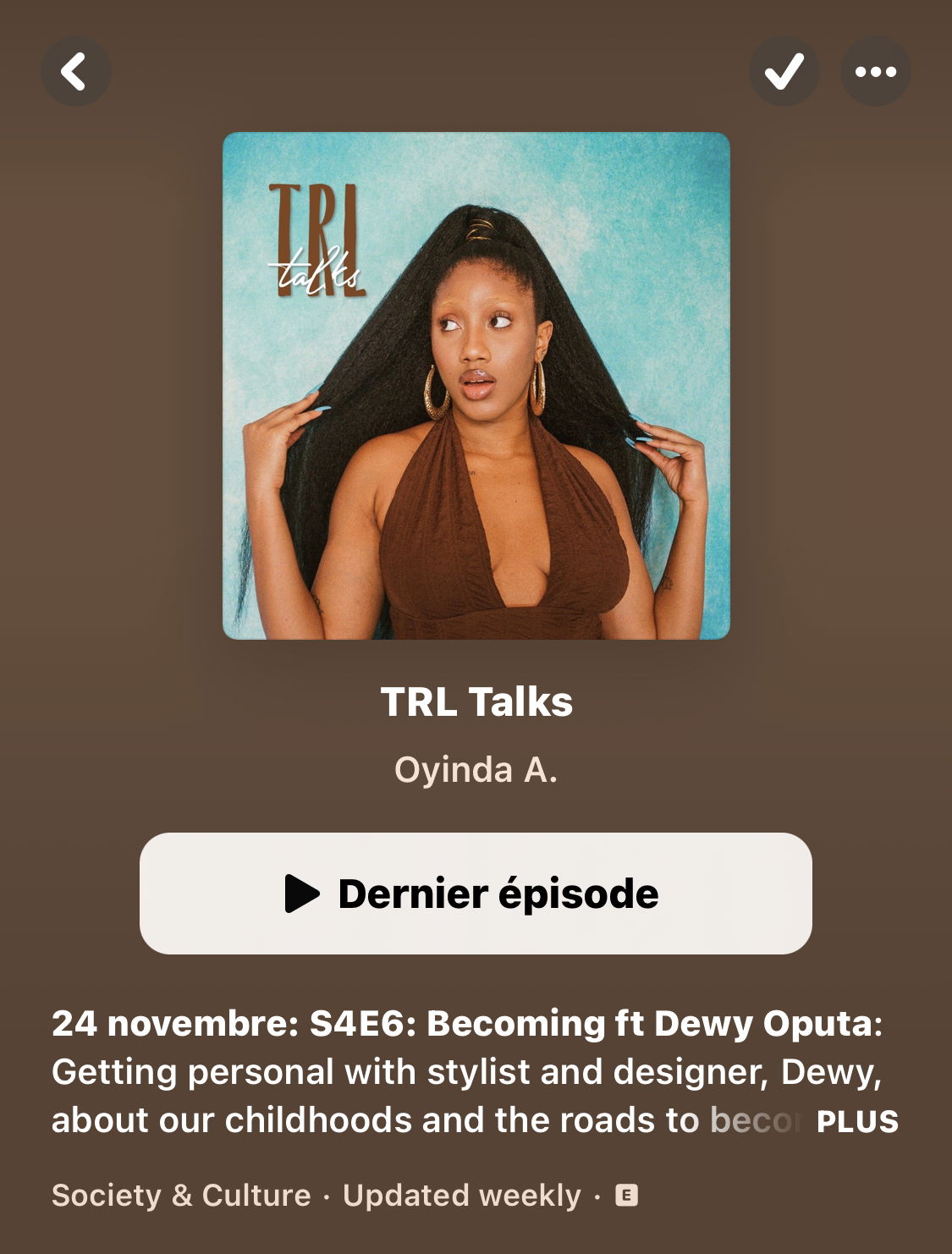 https://open.spotify.com/show/0SohDb66DF3pISJFDRcozU?si=qfiFdrHjRNit6lFw01xZeg
https://podcasts.apple.com/ng/podcast/trl-talks/id1489126149
She also made an amazing playlist collaboration with Have You Heard called "Afro-Femme Supremacy" with bangers on them. I love love love listening to it.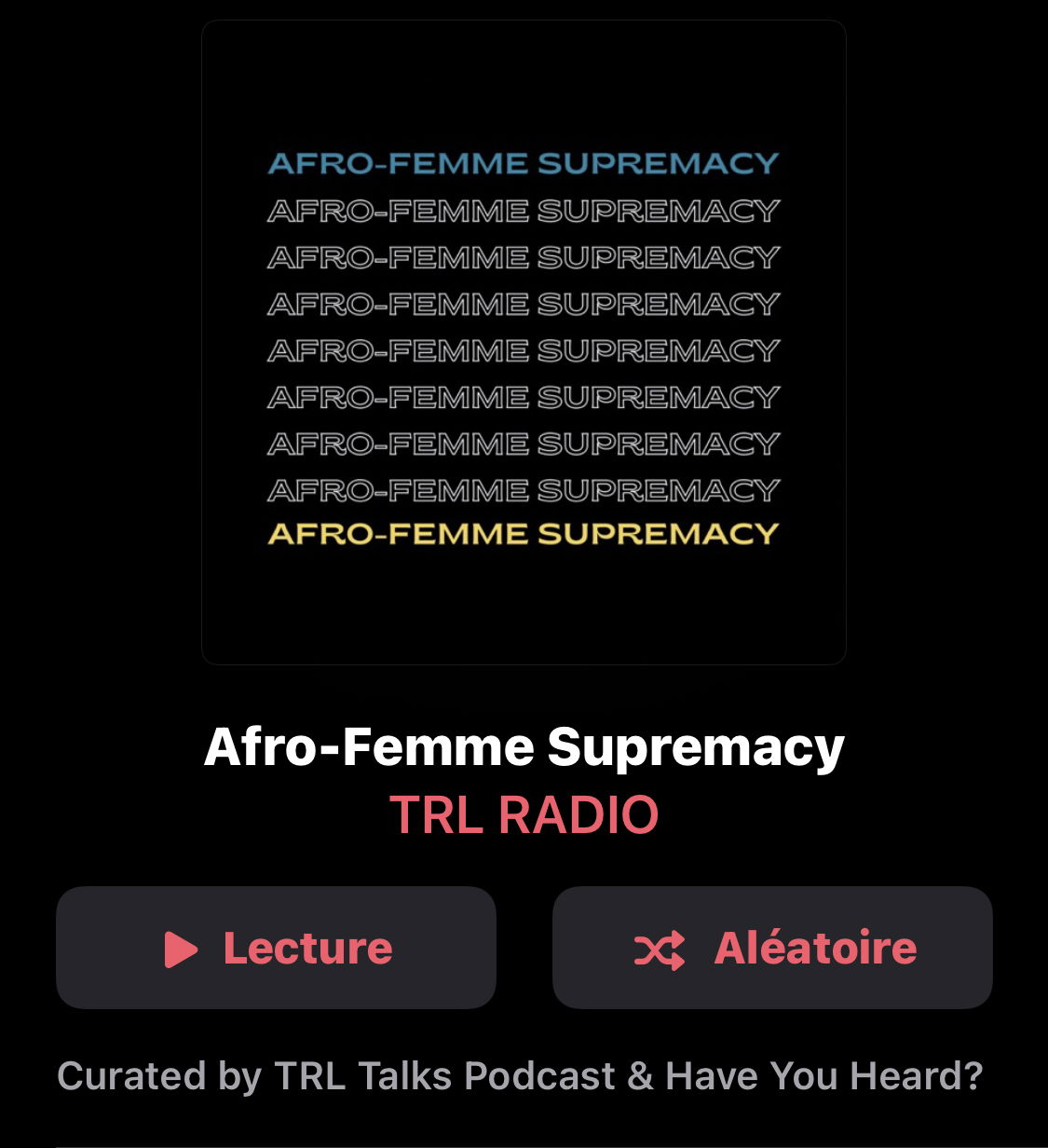 https://music.apple.com/ng/playlist/afro-femme-supremacy/pl.u-WabZl9ZuR0AZY3