One long night in the relationship between a film director and his wife, John David Washington and Zendaya chat, scream, argue, insult, strike, counter-attack, kiss, make-up, and then argue again. The spirits of many other bad-relationship dramas linger over Malcolm & Marie, including Scenes From Love, Marriage Tale and, in particular, Who's Scared of Virginia Woolf? , whose black-and-white look and one-night time period is mirrored in this new film. But writer and director Sam Levinson, who also created the bold and enthralling Euphoria series of HBOs, gives the familiar story a remake of dynamic, sensitive performances from his highly talented stars, and a story that broadens to include race and new Hollywood.
The two-character film was designed and produced during the pandemic, but it does not require any special pleading for its circumstances. Levinson transforms his small-scale style into an advantage that only increases the impact of the film. Fresh off the success of Malcolm's movie debut, the pair return to their spacious rental house at 01:00 and create stark first impressions for the viewer. She looks glam in a silvery shirt, but dour as she slams around the kitchen preparing mac and cheese for him. He's wired, excited to be the hottest new director in town, and doesn't even notice that she's upset.
He seems to be the most self-absorbed person on Earth, and she seems to be the pettiest, whining, because he failed to thank her during his speech at the premiere. But these early experiences give way to others, as characters reveal more of their history and the actual motives behind their frustration and their sincere commitment to it. Throughout the tactical games and dramatic twists and turns, Zendaya and Washington keep the viewer as off balance as the characters do each other. Marie appears to be on track as she calls Malcolm out to be a narcissist. And when she claims he's a mediocre director, he's completely justified in saying, "Were you just trying to be mean?" Zendaya, catching the defensiveness and sadness behind Marie's outbursts.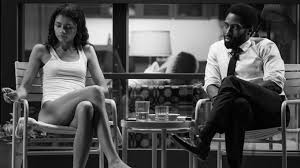 Once an aspiring actor, she has no future of her own, a condition with a complex reason. When Marie's barriers break down, her appearance often becomes simpler: she takes off her make-up and emerges with a wet hair in cotton panties and a kimono. Early screenings of the film immediately started awards buzz for Zendaya, but the same should be true for Washington, who reveals just enough about Malcolm at exactly the right times. Marie is the one who plays more tricks and games through the night, but Malcolm turns out to be unexpectedly insightful, not about himself but about her. Washington has always been a powerful presence on the television.
To see how smart an actor he is, take a look at Spike Lee's BlacKkKlansman; you wouldn't really see him in Tenet, where he is burdened with Christopher Nolan's sloppy dialogue. Here he has some explosive scenes, some directed at Marie, some directed at Hollywood's black director. "Not everything I do is political because I'm black," he says when they first get home, mocking the sycophant, racially slanting praise he's heard from a critic called "the white lady from the LA Times"
Later, after her optimistic critique of his film lands, he rages against it, erupting with accurate and clever lines that insist she's overlooked everything he's been trying to do with his story about a black woman getting rid of narcotics. In fact, he is incensed on a line that states that he "brilliantly subverts the white-saviour trope" You don't have to be immersed in film criticism to howl with laughter at how well Levinson and Washington nail the critic's pretentious style and blinkered outlook, but it helps. Levinson uses more than dialog to keep the story going. A single-location film might easily have felt claustrophobic or stagnant, but Malcolm & Marie never did.
The camera wanders around the rooms when we see the characters come down the hallway, heading onto the balcony, or going from the kitchen to the dining room or bedroom. The film was filmed in a house full of gleaming glass, surrounded by trees, where black and white shades give a subtly eerie feel. A film that's alive needs a fresher conclusion, instead of a dull, clichéd final sequence in which it fumbles. Marie has a monologue on what Malcolm wished to thank her for, a list that lands as banal rather than actual or going. Like the song that plays over the end credits, Outkast's Emancipation, with the lines, "There's a fine line between love and hate" the last speech is too much on the nose, its observations too superficial for this lively, perceptive film.