A day after the jury's decision in Johnny Depp's defamation trial against Amber Heard was revealed. Speculation is widespread over how the jury arrived at the idea that the Pirates of the Caribbean actor favored him over his ex-wife.
Several legal experts have weighed in on the points that helped Depp win the trial, citing Heard's lack of credibility as the primary factor.It has even been said that Heard came out of the cross-examination devastated, without any residual credibility, and made several errors during the trial.
The jury, it appears, believed Heard was lying about the alleged assault she endured at the hands of the 58-year-old actor. Amber was alleged to be lying about Johnny on purpose since she had a grudge against him.
The actress's lack of sincerity in front of the jury, notably when her reactions would have appeared overacted, exaggerated, or as if she didn't deserve empathy. On the witness stand, many of Heard's emotional clues didn't match up with her evidence. She would become enraged at inappropriate moments or make clumsy attempts to connect with the jury by speaking directly to them. She was also caught in a tangle of contradictions, making it difficult to know which pieces to accept and which to dismiss. Even if any of her claims were true, her own testimony and remarks recorded on tape damaged her more than anything else in this trial.
Men are rejoicing over Johnny Depp's win over Amber Heard, but at what cost?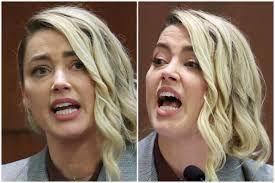 The jury decided in Johnny Depp's favor in his defamation lawsuit against Amber Heard. The verdict was predictable from the start. Men worldwide who are watching this case on television are congratulating the actor on his triumph. But how much will it cost? Amber Heard wasn't incorrect when she argued that this loss was a setback for women since male violence against women is still bigger than female violence against men.
Domestic violence and sexual attacks on women seldom make it to the courts, but that doesn't imply they don't happen. In nations such as Mexico, Central America, and South America, sexual assault and murder against women are commonplace.
So, when a high-profile case like this goes in the man's favor, it's impossible to tell what's happening. Amber Heard mistreated Johnny Depp, but the actor also made some bad choices. Men all throughout the globe should be celebrating this decision, and women who support it are contributing to the tremendous inequity that exists even in first-world countries.
We are relieved that Johnny Depp's career has been restored. Still, the actor should raise awareness of the damage that can be done to a movement on the verge of being destroyed because of a celebrity case. Countless women have gone missing after being abducted or killed worldwide, and no one seems to care. Allow it to sink in.