After placing his fans in "First Class," the rapper's second studio album, Come Home The Kids Miss You, is now out on all platforms, only a couple of weeks after its newest song topped the Billboard Hot 100. The album also includes the previously leaked Drake collaboration "Churchill Downs," as well as the lead track "Nail Tech." The project, which includes the song "Dua Lipa," also has cameos by Lil Wayne, Pharrell, and Justin Timberlake. Earlier this week, Harlow teased the album with a clip titled "Friday," which featured Boy Meets World actress Danielle Fishel.
The new album follows his debut studio album Thats What They All Say, which contained his breakout smash "What's Poppin," as well as contributions from Adam Levine, Big Sean, Lil Baby, Lil Wayne, and others. It got him a Grammy nomination for Best Rap Song ("What's Poppin") in 2021, and Harlow has since received two more for his collaboration with Lil Nas X on their No. 1 track "Industry Baby."
"I fuck with it," he said.  "To be able to make a song that women like is what it's all about for me. There's a lot of things it's all about, but that's a huge one. That's really what you want, to make something that your crush wants to hear."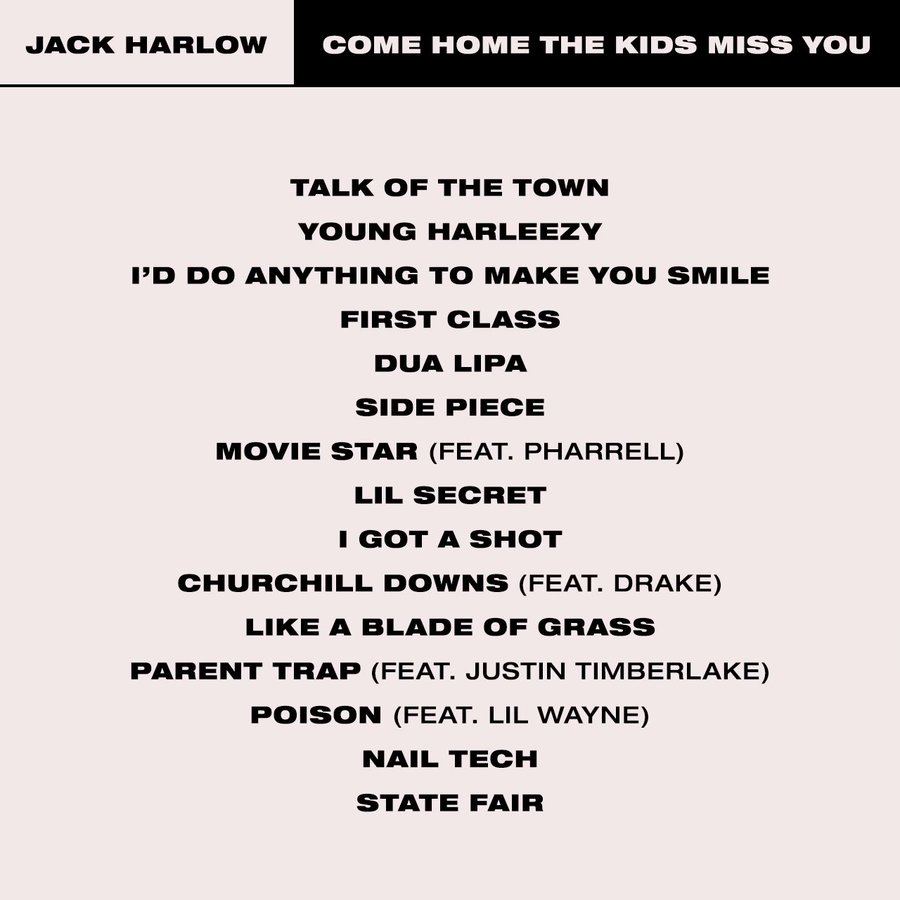 In tandem to his new album, Harlow released the music video for "First Class," which was directed by Jack Begert.
Prior to dropping his new album, Harlow spoke to Zane Lowe on Apple Music 1 and opened up about what he's learned from the careers of Drake, Kanye West, and Jay-Z.
"We've had our talks. But more than anything, I just take notes from him [Drake] on his actions," Harlow said. "He's leaving a blueprint behind, you know what I'm saying? The same way Jay left a blueprint. Same way Ye left a blueprint. He's creating a blueprint that you don't have to… It's not rocket science to follow. You can just see, okay, these are some great decisions. You just see it. And so I just pull from the playbook of all the legends where it resonates with me.
He continued, "Ye is a huge one for me, just resonates with me massively. I see what he did. But I think it all just comes from just being the route of just not being a street artist. Because it's just something so traditionally street about this genre. And if you're not street… I'm not the first artist to come through that isn't that. And so inevitably I'm going to take notes. Any comparisons I see, it's inevitable where there's a cloth, you know what I'm saying? This is just what comes with it."