Rihanna returned to the stage for the first time in seven years to play a dozen of her greatest hits during halftime, or as Cara Delevigne's shirt put it, "A Rihanna concert interrupted by a football game."
In 13 minutes, Rihanna performed 12 of her hits, universally known songs that don't require much in the way of fluff or bombast, casually reinforcing that her discography is clear.
Rihanna begins her performance with her signature B*tch Better Have My Money song, which she performs while dressed in a special red Loewe and Maison Alaia outfit and matching red sneakers.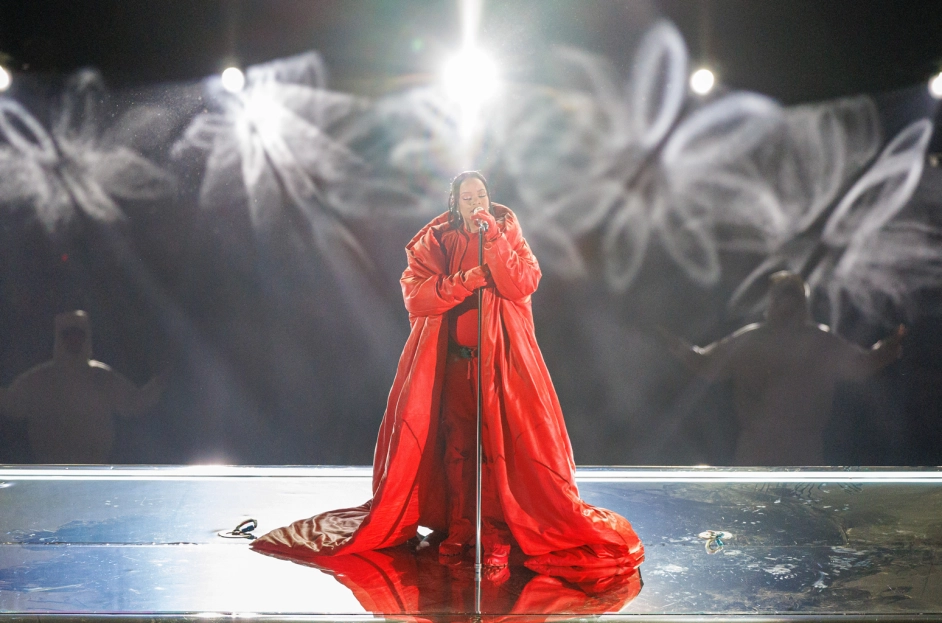 Soon after, a medley of "Rude Boy," "Work," "Wild Thoughts," and "Pour It Up" followed by "Where Have You Been," "Only Girl (In the World)," and "We Found Love."
Rihanna took a compact from one of her dancers' outstretched hands and put two dots of powder on her face. This was a nod to her Fenty Beauty line, which has become more important to her career than music in recent years, and she gave the compact back to another dancer before grabbing the microphone with her left hand.
She then began singing the chorus to "All of the Lights," a song she co-wrote with Ye over a decade ago before his anti-Semitic comments late last year made him a pariah. She then released another single with Ye, titled "Run This Town," right after (and with Jay-Z). Considering how crucial Ye was to the sound of those songs, I can't be the only one who was nervous he might show up on stage.
The set ended with "Umbrella," which had great choreography and a great performance of "Diamonds." I am definitely downloading this set as an mp3 to listen to.
Many of Rihanna's devoted fanbase took her willingness to perform at this year's Super Bowl as a sign that her return to music might be imminent, as she hasn't released an album since 2016's "Anti." I was hoping she'd announce a new single, album, or tour, but alas, she's expecting a child, and my hopes have been dashed.
Compared to Beyoncé's belly rub at the 2011 MTV Video Music Awards, it lacked the drama of other pregnancy disclosures. Still, Rihanna did a great job with the performance, especially since she had just given birth to her first child the year before.
Truth be told, Rihanna's performance didn't exactly set the world on fire, but hey, it's Rihanna, so it's great. On top of that, her dancers did their jobs, so they ought to have their flowers.