A new generation of Nigerian voters has made this weekend's presidential election the most competitive since the country's military dictatorship ended in 1999. After years of stagnation, corruption, and instability in Africa's most populous nation, many of its citizens are backing a third-party candidate who promises to take on the country's two primary political machines and bring change to the country.
As the Nigeria 2023 federal elections approach, there are three types of people talking about it: those who have their PVCs and are going out to vote; those who don't have their PVCs due to circumstances around them but hoped to vote (my category); and those who didn't bother with their PVCs and have no plans of voting whatsoever. If you fall into the last category, don't you care about the state of your country?
A fair and trustworthy election could change Nigeria for the better and allow its young, creative, and entrepreneurial energy to be used for the good of everyone. Nigeria has a lot of big problems, like growing insecurity, an economy that isn't doing well, a lot of debt, a high poverty rate and a corrupt political class. This moment is genuinely seen as a potential turning point.
Out of the 18 candidates for the presidency, four stand out as clear frontrunners: Ahmed Bola Tinubu of the ruling All Progressives Congress, Atiku Abubakar of the main opposition force, the People's Democratic Party, Rabiu Musa Kwankwaso of the New Nigeria People's Party, and Peter Obi of the Labour Party.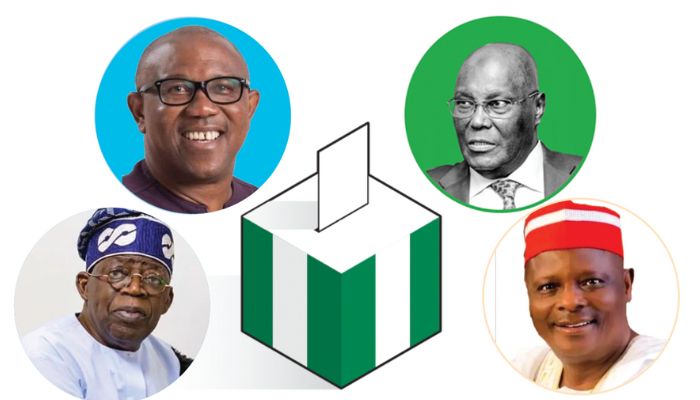 Recent polls show that Peter Obi is now a serious threat to the All Progressives Congress and the People's Democratic Party. These two parties have dominated Nigerian politics for decades.
Obi comes across as younger and more energetic than his primary opponents, Tinubu and Abubakar, who are both in their 70s. By appealing to voters across Nigeria's religious and ethnic lines, Obi can usher in a new era of politics that promises responsive and transparent leadership. Whether or not he will actually be able to do that if he wins is another matter entirely. Obi, a rich businessman who became a politician, has run a very successful campaign. In many polls, he is far ahead of the other candidates. Analysts and officials from the ruling party say that Obi may have trouble turning his "virtual" support from social media and young people into enough votes to beat his rivals' massive patronage networks, deep finances, and powerful political organization.
Turnout is crucial, especially considering how poor it has been in recent elections. When Obi's campaign began last year, a survey indicated that only 39% of Nigerians felt close to a political party, a significant drop from 2015. There may be a wave of support for Obi if more than half of eligible voters show up at the polls on election day.
Experts say that democracy is coming back to Nigeria, which has the youngest median age in the world at 18. In past elections, young people were mostly quiet, but that seems to be changing this year.
Over a third of voters, or around 37 million people, are between 18 and 34. Many believe that the same energy that made Afrobeats music and Nollywood movies international sensations is now being channeled into politics.
A youth-led demonstration against police brutality in 2020 that resulted in the deaths of more than a dozen protestors, a seven-month Twitter ban, and an eight-month strike at public colleges are among the youth's complaints against the present administration.
As a result, many educated Nigerians have left the country searching for better opportunities elsewhere, a phenomenon known as the "Japa wave."
But it has also led to a lot of support, especially on social media, for Obi, an outsider whose followers see him as a unique "principled" politician.
According to the latest voter registration data from the Independent National Electoral Commission (INEC), young people will play a pivotal role in the upcoming election.
37,060,399 people between the ages of 18 and 34 make up 39.65% of registered voters, while 33,413,591 people make up 35.85% of the electorate, 17,700,270 people make up 18.94% of the voters, and 5,294,748 people make up 5.66% of the electorate.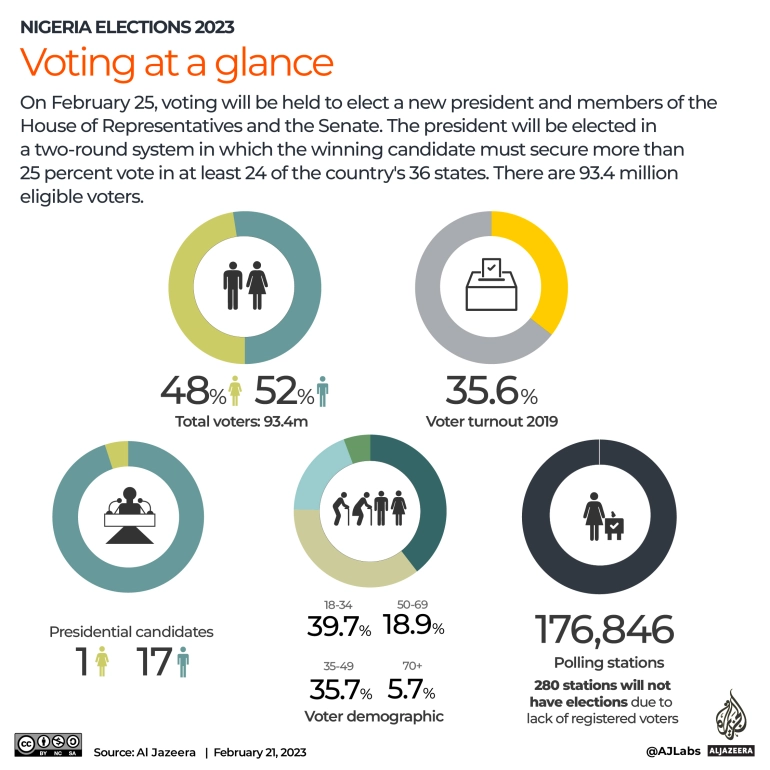 In other words, young people still account for roughly 40 percent of registered voters and, if properly mobilized, might swing the results of political elections in their favour. To do this, it is essential to encourage young people to cast votes. and organizing their disparate opinions into a unified argument for a specific political philosophy.
This election feels like a confrontation between two irresistible forces. However the election turns out, it will begin a new era in Nigeria in which the country's vast youth population will no longer be overlooked for Nigeria's future,